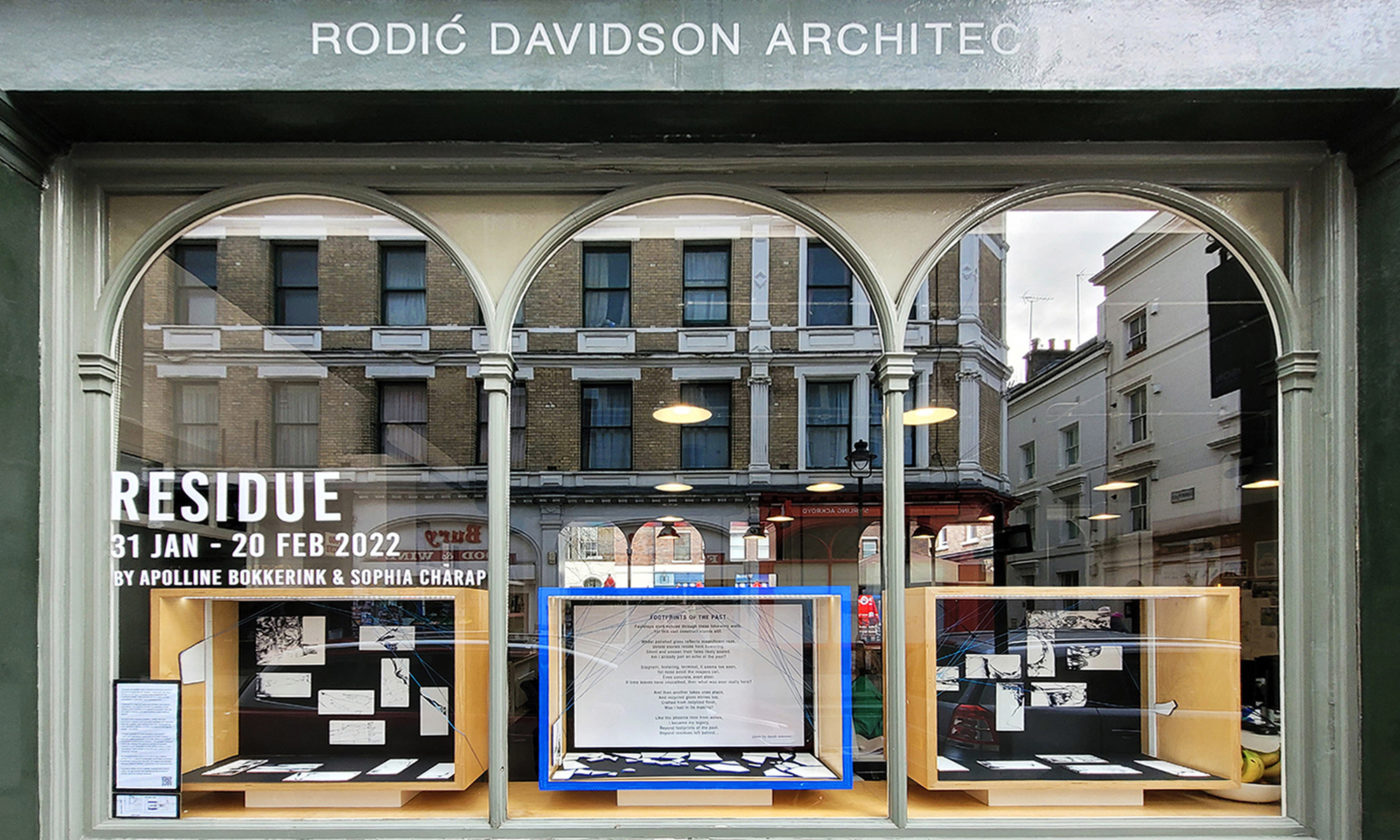 RESIDUE by Apolline Bökkerink & Sophia Charap
Our latest exhibition is a site specific installation by Apolline Bökkerink and Sophia Charap. Spanning both window fronts at the practice, the show utilises a range of media to conceptually explore the idea of 'Residue'.
Background
The point of departure for the exhibition was the area surrounding the Rodić Davidson studio; specifically looking at the fate of a building once known as The Cochrane Theatre, which currently lies in a state of limbo, anticipating its demolition and redevelopment. Uniquely for its locality, the building holds a Certificate of Immunity (COI) that prevents it from becoming a listed building and therefore significant alteration to its fabric and structure is permitted, and arguably encouraged. Its current construction is condemned to a residual existence.
Positioned in this state of existential liminality and material degradation, the building prompts the question; What remains once a building has fulfilled its purpose? How are its layers of memory and past existence made visible or erased?
Exhibition
By using items that are obsolete remains from past uses; excess tiles from warehouse suppliers and discarded bathroom tile fragments from DIY projects, and marking these with impressions of The Cochrane's demise, ideas surrounding the notion of legacy – as residue are drawn into question.
Through a process of rapid drawing in permanent marker and subsequent application of surface cleaner, carefully crafted markings on the tiles are left to erode in a process reminiscent of their former function. The erasure that household tiles undergo during a lifetime of constant cleaning is now suspended through the partial presence of the 'permanent' marks drawn across the tiles' surface in the architects' window.
Entangling these pieces within a web of high- visibility builders line, traditionally used when bricklaying to delineate areas yet-to-be built, the installation explores the interplay between ideas of renewal, construction and destruction.
Equipping residue as simultaneously our material, concept and creative output, we add to both the building and the art pieces' eternal chains of residual existence.
For more information visit the exhibition website.
31st January – 20th February 2022