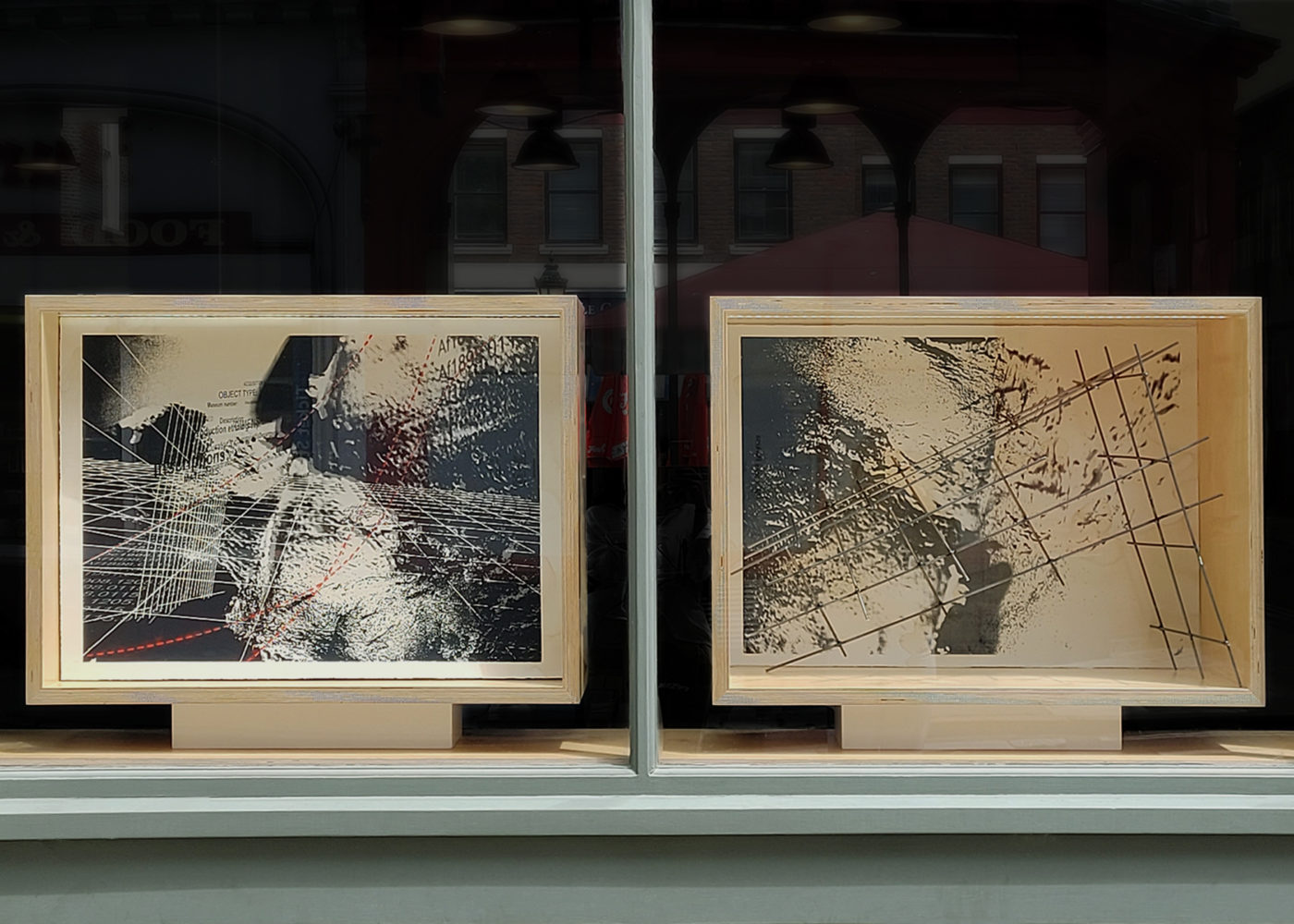 Dislocations by Jennifer Moore
We are delighted to display a new site specific exhibition by printmaker and artist Jennifer Moore in our window displays at the practice. Entitled 'Dislocations', the exhibition looks to our practice's surrounding area for its inspiration and features a series of ink and dry pigment screenprints as well as welded, paper and clay sculptures that explore how localities and places can be documented and recorded, enacting an artistic form of contemporary archaeology.
Exhibition
The establishment of the British Museum was the point of departure for the exhibition, and Jennifer proceeded to collect and record textures from around our offices, echoing the museum's methodology of collecting (ordering and cataloguing) artefacts from around the world, removing them from their context and reframing them in display contexts.
The works featuring in the windows map and collage fragments from old Bloomsbury land maps, collected textures from the surrounding area, grid lines and British Museum catalogue references. The layered pieces explore processes of documentation and mapping, using abstraction to consider the authority partitions of space enact whilst also representing movement across and the history of spatial documentation.
The exhibition also features a rear window installation proposing an anti-monument – a 'map' is folded, rolled and torn to create a suspended form – printed with fragments of the collected textures. Below them are the small inconsequential clay imprints that record the imprints of these textures, displayed in a 'showcase' like artefacts in a museum.
About Jennifer Moore
Jennifer Moore is an artist and architect living in London.  She is interested in making images, forms and spaces through print; combining digital and analogue drawing with photographic languages. Alongside laser etching her two dimensional work mainly utilises silk screen and digital print processes. Jennifer also works in metal to explore how print can interact with objects and surfaces.
8th June 2022 – 19th July 2022