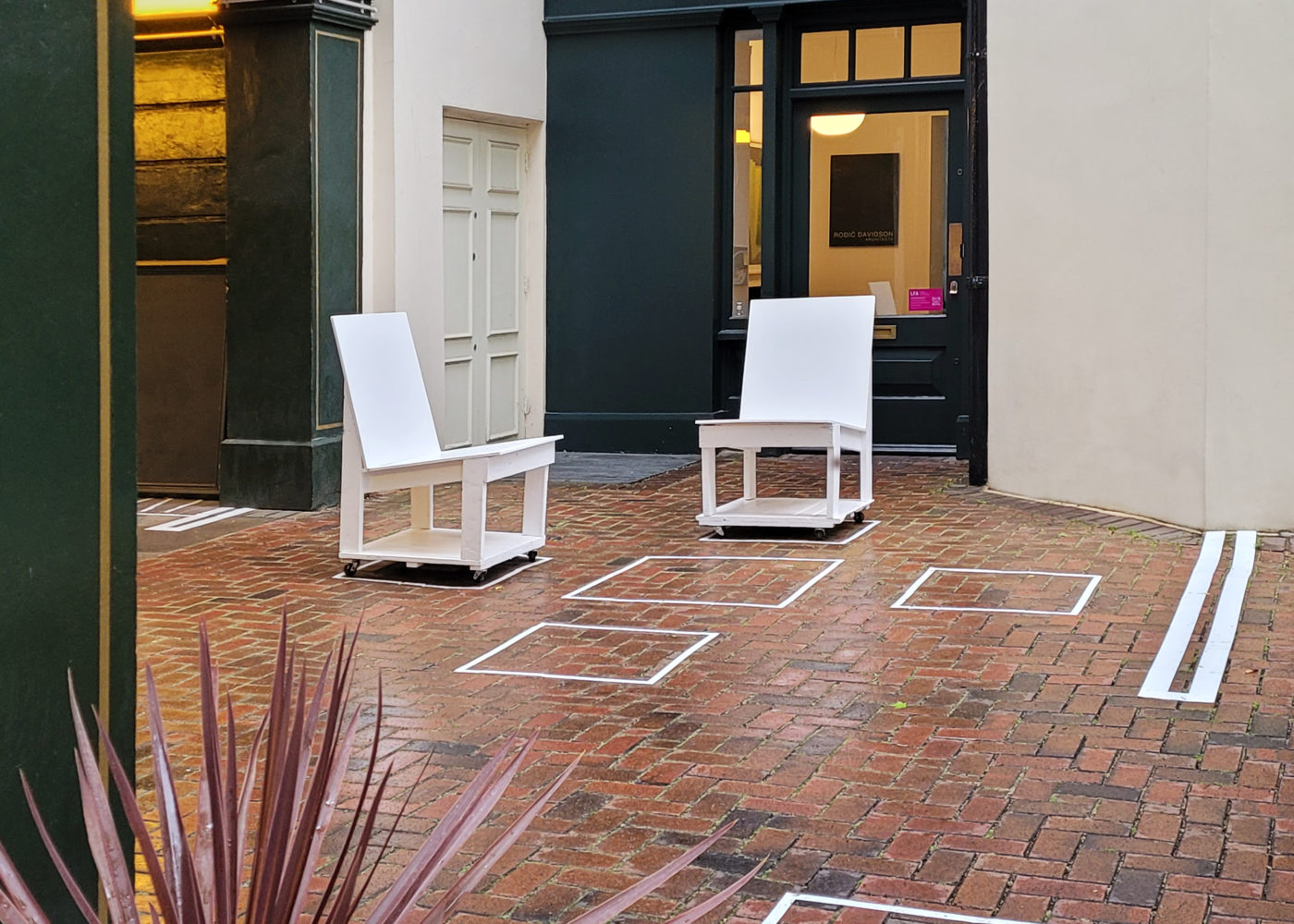 Performing the Plan: London Festival of Architecture 2022
2022 marks the return of the London Festival of Architecture with this year's theme being 'Act'. In response, Rodić Davidson have created a subtle intervention onto the courtyard adjacent to our Bloomsbury studios, an installation entitled 'Performing the Plan'. The installation consists of a custom 1:1 scale floor plan which seeks to evaluate the influence that design has on both public and private realms; creating a stage upon which the graphic spatial intervention can be appropriated by visitors through movement and behaviour.
Encouraging members of the public to actively navigate and engage with the notional space created, the floorplan poses a series of choices and opportunities to act in accordance with or against the plan's directive design. Visitors are encouraged to appropriate the space by utilising and moving the portable furniture contained within the boundaries of the fictional, outlined space.
By doing so, the relationship between symbolic and material constituents of space and their inhabitants is considered. By positioning the interactions between actions and notional space as performative, the installation questions the authoritative nature of architectural drawing during the design process and considers how this holds up in reality.
Being a temporary installation, it was important for us to minimize the impact and material use of our proposal, using existing furniture as well as making custom furniture pieces entirely from recycled materials and building in-house. You can read more about our furniture preparation process here.
The context of life post-pandemic informed the thinking behind the installation, with the relationships between dwellers and their dwellings changing after extended periods of time spent at home. Performing the Plan and its interactions throughout the LFA month are the base point for a forthcoming exhibition that will document and displayer a wider analysis from the Rodić Davidson team, where through artistic, diagrammatic, and analytical responses the ways in which the plan has choregraphed the activity and movement of the courtyard's visitors will be explored.
Photography by Blerta Kambo
1st – 30th June 2022