A Brief History of Pied Bull Yard, Bloomsbury
13.06.23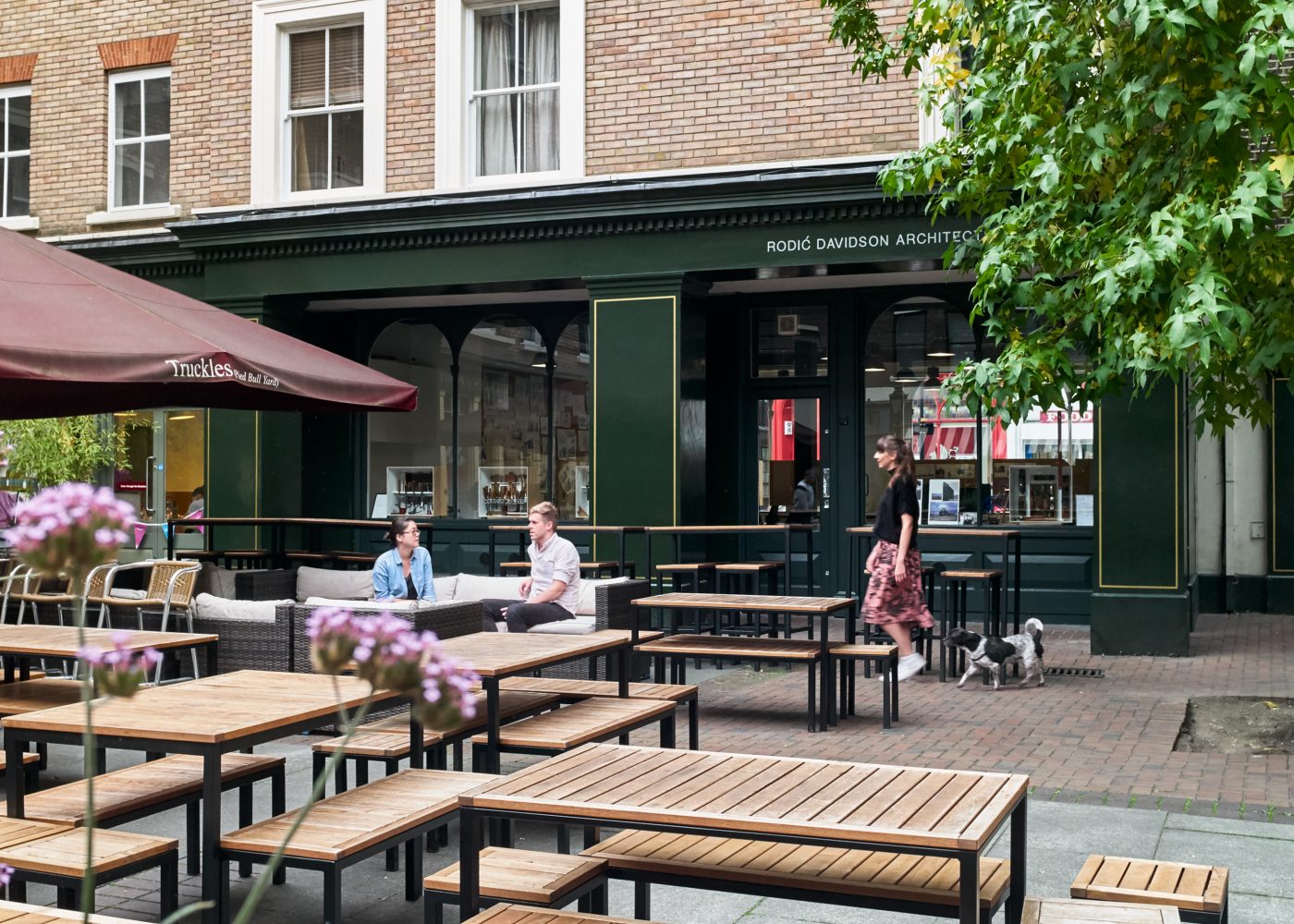 With the sun shining on us this week we wanted to take a moment to celebrate our unique location in the heart of Bloomsbury.
Pied Bull Yard, where Rodić Davidson Architects have been based since 2013, is a little-known courtyard a stone's throw from the British Museum. Our Bloomsbury office was originally situated in 67 Great Russell Street, before expanding into the old 'York Cameras' shop in Pied Bull Yard. This light-filled space now forms the main part of our office, with the Grade II Listed Great Russell Street building used as a meeting room, events space, materials library, and area for design reviews. In the windows facing Bury Place, we host a rotating display of artist installations.
The name 'Pied Bull Yard' first appears on Greenwood's 1828 map of London; it was likely named after the Pied Bull coaching inn located on Museum Street, however in Little Russell Street, opposite the old yard entrance, there was also a Pied Bull tavern. Over approximately the next 150 years, this courtyard was infilled until all that remained was a small area (likely gardens) behind the northern row of houses, alongside Galen Place, part of the old Stables Yard.
In the early 1970s, it was proposed to demolish the whole city block to make way for the British Library, but a determined campaign by locals prevented that from happening; it was announced in 1975 that a new building for the British Library would be located at St Pancras instead.
The present-day Pied Bull Yard was built in the 1980s, following the demolition of multiple units behind certain retained buildings (5-17 Bloomsbury Square, 66-71 Great Russell Street, 10-22 Bury Place, 3-9 Galen Place and 24-28 Bloomsbury Way). The development aimed to revamp Galen Place (the neighbouring courtyard) and form a new Pied Bull Yard.
The courtyard is a mixed-use development, largely split between businesses at Ground level and residential accommodation above. It is currently home to London Review of Books and the associated London Review Cake Shop, Truckles Wine Bar, Le Cordon Bleu culinary school, The Classic Camera and Austin Desmond Fine Art. There is a real sense of community between the residents and businesses in Pied Bull Yard and we often host social events in our Great Russell Street Office. In summer months, the mix of food and drink establishments help to create a bustling, convivial atmosphere.
We love to welcome visitors to our unique location.  The postcode of our office is WC1A 2AE and a map can be found here: Rodić Davidson Architects London.  The entrance to our office is within Pied Bull Yard, which can be accessed via Bury Place or Bloomsbury Square.
Our 'What 3 Words' address is: ///door.always.across