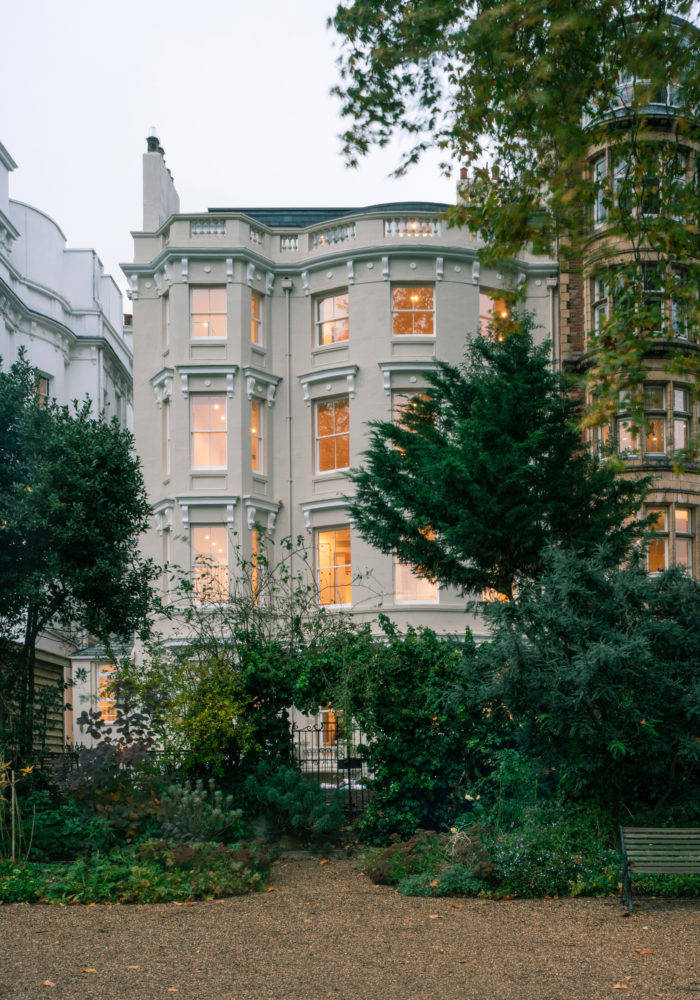 Rodić Davidson Architects, in collaboration with Rodić Davidson Interiors, were commissioned for the renovation of a grand Victorian property overlooking a private Grade II listed garden square in Notting Hill. A hard-won consent was achieved for a roof-level extension, incorporating a terrace overlooking the private garden with far-reaching views over west London.
Much of what we know today as Notting Hill was undeveloped farmland up until the start of the 1800's. The subsequent development of the estate occurred during a time of great residential expansion in London. The Architect appointed for this development was also a specialist in landscape design who utilized the undulating land around Notting Hill to propose three large paddocks constituting of two crescents and one triangular lawn. In the 150 years since, there have been relatively minor changes, with the majority of the Victorian terraces and villas surviving.
A defining feature of both the Ladbroke Estate Conservation Area and the property alike are the private communal gardens. The Victorians promoted the integration of green amenity spaces into the urban fabric to provide space for leisure and exercise. These shared residential gardens departed from the typical London garden square which were usually accessed from the street and overlooked by the fronts of properties. Conversely, the communal gardens in this conservation area are situated behind the properties and accessed directly from their homes. A major consequence of this was the aesthetic attention paid to the rear elevation, now made visible to neighbours enjoying their communal gardens, often receiving ornamental treatment such as stucco rear facades to match the street front.
The property is Italianate in style and ornamentation with a painted stucco front and rear. The original design locates the primary living spaces towards the private and communal gardens. This orientation has an impact on the spatial programme, turning the living areas away from the busy street and instead connecting them to the hidden green oasis at the rear. Our intervention expresses the evolution of the building, with a grand ground and first floor crafted in a more traditional style. As you make your way up the design becomes more contemporary, arriving at a modern, paired-back interior within the new mansard extension. The works retain the property's original fireplaces and restore original cornicing, ceiling roses and fibrous plaster details, with secondary spaces hidden behind concealed doors. The new top floor provides expansive views over the private communal garden, whilst a new landscaped terrace with planting brings a light and pleasant green outlook into the lower ground floor.
The property was sensitively renovated to enhance the historic character of the townhouse, with modern additions allowing bright, clean contemporary spaces to emerge. Rodić Davidson managed a professional team that included Savills Planning and Turley Heritage.
Photographs (c) Lorenzo Zandri
Read

more

less